About A1
In 1992 Martyn Jameson and Peter Norrie set up A1 Embroidery & Screenprint Ltd., providing brand and embellishment services to customers throughout the Wellington region. Initially based in Cuba Street, Petone, the company quickly established itself and in 2002 moved to new purpose-built factory and showroom nearby at 325 Jackson Street.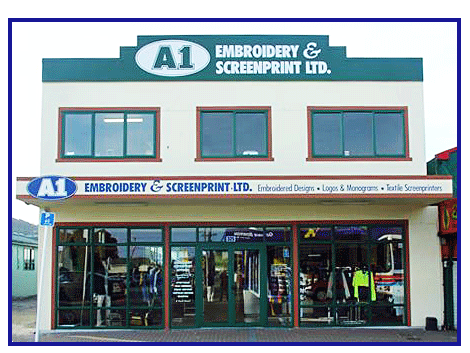 Over the years A1 has built a strong and loyal client base. A specialised and cohesive team of 12 full-time staff members provides garment and merchandise printing and embroidery solutions for all types of business, sporting and organisations in a market that now extends throughout New Zealand and internationally. Among our major clients are such well-known names as Wellington Rugby and The Hurricanes, Wellington Cable Car, Hutt City Council, Guthrie Bowron, Special Olympics Wellington, Motorsport NZ, Nope Sisters, Central Pulse Netball, Weltec, Equestrian New Zealand and Industrial Tyres & dLIVEr Online Streaming in Queensland.
Everyone at A1 Embroidery & Screenprint Ltd is committed to providing the very best customer service possible. We are extremely proud of the work we do and the products we create.  While our work is seen on the uniforms of major Corporates, Organisations and Sports Teams, no job is too small for us. Whether you are seeking one or 1,000 embroidered logos or prints, get in touch so we can talk about your design and production needs.